Emily Bloom launched Self Made Tanning after years of being within the sunless industry space as a beauty expert and spray tan studio owner. During her career she realized; there were no quality self tan mousses available that were cost affordable for clients. She dreamed about formulating a product that was streak free, natural colour and affordable for clients that made it easy to apply - that's when Self Made was born. She launched her entire luxe self tan mousse line and it wasn't;
long before these products were flying off the shelf.
" I am just a girl, who truly believes that a healthy & safe tan gives a confidence boost beyond anything else. All I want is for every girl/boy/woman and man to feel good 24/7 in their natural beauty
and feeling confident enough to
drop the filter"
- Love Emily Bloom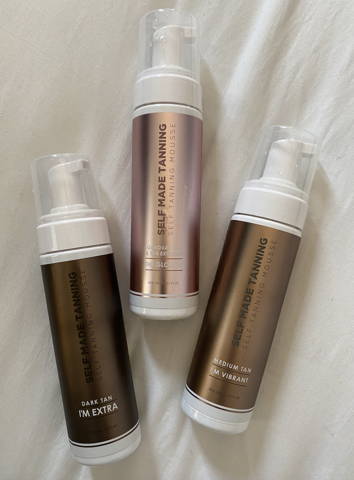 All our self tan mousses are formulated with 100% all natural DHA, skin loving ingredients that are cruelty free and vegan, We formulated our products with you in mind. Our luxe mousses will give you the confidence boost your craving will leaving your skin feeling soft & loved.
We pride ourselves in creating luxe tinted mousses that flatter your body. Ditch the sun, and give your skin the love it deserves by practising safe tanning with our sunless tinted mousse line.
As a female founded business, we know exactly how important it is to have a self tan mousse that does not streak, smell or stain, especially when you are online shopping and are unable to test out the product.
From our customer service team that is available online to help you find the tone that suits your skin, to our operations team that work around the clock to get your orders in on time, Self Made Tanning has your back! Just relax and enjoy the gift of glowing, tanned skin - let usl take care of the rest.